Árstíðir lífsins is Icelandic and means "The Seasons Of Life". The band has been active only five years now and they write long, epic folky black metal songs based on careful research and scientific literature. It goes without saying that it is not the aim of this band to be affiliated with any politically charged scene within Metal. Árstiðir lífsins wants to present itself as an intelligently crafted work of art independent from any narrow-minded dogma. If you are new to these guys, I would strongly recommend checking their entire discography, both albums are simply great.
Vindsvalarmál is close to twenty minute epic ranging from one emotion to another. Though Metal and Folk are the most dominant musical influences in the music of Árstíðir lífsins, several other forms also add their qualities to the final result. Music and lyrics are tightly interwoven and change continuously, closely following the story told. That is why harsh, uncompromising Black Metal parts fade into folkloristic choir passages. This sentence was taken from their webpage as I couldn't have said it better myself. The vocals are extremely raw and passionate, giving you the feeling you are actually sitting by a campfire watching the vikings roar and telling their story. I have heard this song fifteen times already, but I always find new things with it, this is what makes this band very interesting but on the other hand very demanding.

Helrunar was born in Münster, Germany back in 2001 and it features Skald Draugir on vocals, who is part of Árstiðir lífsins too. I have to admit that I haven't followed their career quite actively, but I think it is changing. Why? Because Wein für Polyphem is really good and versatile song and holds up its site on the split very well. Both songs take their time and space to get full force, but once they reach their peaks you cannot stop banging your head uncontrollably. The songwriting on both songs proves why you don't lose your interest although these two songs could easily make two entire grindcore or powerviolence albums.

Helrunar is probably easier to approach as the lyrics, although sung in German, have a clear chorus which you can relate to. Vindsvalarmál is harder to get into due to having very little to sing-along to, but the atmosphere is very well executed and the orchestral parts add value to the entire experience. This split is well worth the purchase and a great listen while conquering new ground or taking a long hike in the forest.

Listen to both songs below and buy it on Van Records.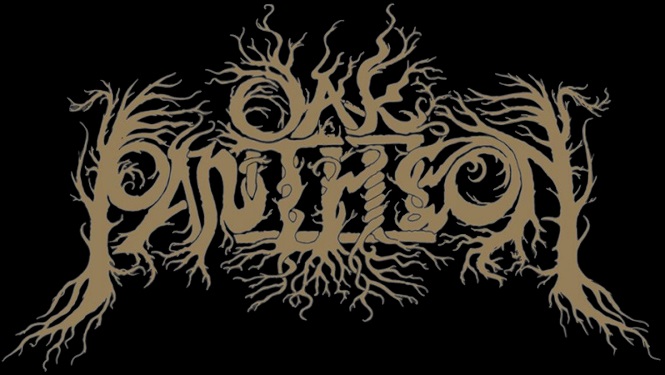 Amiensus is one of my new findings from Bandcamp. They only released their debut album Restoration on Pest Productions last year and now they offer a CD split with Oak Pantheon on Tridroid Records. Restoration took me by surprise as this young band is clearly enthusiastic and passionate about the music they create. Some songs on Restoration remind me of Opeth and that is a compliment to these guys. Arise is Amiensus' longest song to date reaching the ten minute mark and these guys are in it to win it. Amiensus' style could be described as progressive black metal and the song offers clean and harsh vocals and melodic passages holding the act together.
Oak Pantheon is another stellar finding from Bandcamp a few years ago as they reminded me of Agalloch. Some people might call them copycats, but there is a lot more these guys have to offer. Their entire discography is impressive and especially Architecht of the void Pt II from their EP The Void 2011 is one of my favorite tracks in the last two years: that guitar melody is simply haunting! Their sound is slightly different on A Gathering, but I am still enjoying it tremendously.
Most of all the guys are some of the nicest guys in the industry! Back in the day my order for From A Whisper was almost lost in the mail as Katrina hit the Broken Limbs Recordings warehouse and since it was not sure if my order would reach me, the guys sent me a copy from their personal collection along with a note that their entire discography would be free for me for life, now how cool is that?
Listen to the split here and support the guys!
Conan is as crushing as it should be. The name compels the band to sound massive, primitive and cannibalistic and that is exactly what this Liverpool trio does. The guitar is downtoned, the sound is heavy and since they play really caveman like doom, it is slow and loud. Conan has been active only since 2006 and their debut album, Monnos, was highly acclaimed in 2012 lists. You should check out this beast
here
.
Beheaded is a 17-minute crushing journey to the roots of doom. There is little to complain about the song if you value stoner doom. They don't show off by playing fast solos or writing one liner choruses, but the heavy and overwhelming atmosphere they can create is like a ten ton hammer crushing you like a worthless maggot. I have yet to experience these guys live, so I cannot tell you whether my heart is going to jump out of my chest, but ask me again in April cause they are coming to Tampere then.
Chicago's Bongripper plays instrumental doom and have been around the same time as Conan, so they fit perfectly together in this split. Unfortunately I still haven't checked their entire back catalog, but
Satan Worshipping Doom
is downright heavy and as nasty as a nail under your fingernail. It has only four songs, but you get close to 53 minutes of heavy stoner doom to keep you warm. What about the song titles? Hail, Satan, Worship, Doom? Combine that with the name of the band and we have a winner again.
Once Zero Talent (gotta love these guys) kicks in, you can expect heavy riffing and a bass that will have your heart skipping a few beats every now and then. The heavy and massive guitar wall is thicker than Conan's and more versatile, but since there are no vocals the guys are keeping me focused and eager to hear the next passage or riff. This is pretty much the perfect song to work out to, you can torture yourself as much as you like as these guys will not give in. As far as I know Bongripper is currently unsigned, but I am guessing it won't last long.
Listen here and support these great bands!
Solstice:
Death's Crown Is Victory
Although Solstice have been around since 1990, only two albums have surfaced so far:
Lamentations
from 1994 and
New Dark Age
from 1998. Solstice plays epic traditional heavy / doom and their sound is clear and majestic. To my ear their style is reminiscent to Atlantean Kodex, Solitude Aeturnus and Candlemass. I have to admit that I was not familiar with band before, but I am glad I found them. Based on the reactions on the net, their return was more than hoped and on Bandcamp and Last.Fm the fans are praising their return.
Death's Crown Is Victory is a might four-track EP featuring entirely new band with guitarist Richard M. Walker being the only remaining founding member in the band. The EP starts with Fortress England, a three minute instrumental which set the mood perfectly. By the time I Am The Hunter kicks in you will hear powerful riffing and traditional, true heavy metal atmosphere. Paul Kearns behind the mic fits perfectly to the band and his sound is soft and powerful. There is a lot to like about this EP: first of all everything is somehow fitting: the production, the atmosphere and the vocals. If you like traditional heavy metal with a touch of doom, you would be fool to pass this by.
Bölzer:
Aura
Bölzer hails from Zurich, Switzerland and have been established in 2008. There are only two guys in the band: drummer HzR and guitarist & vocalist KzR. Thus you could easily compare them to Columbian black metal masters Inquisition, but their sound is more death than black metal to me. I knew absolutely nothing about this band, but as their name kept popping up on magazines and webzines posting their best of 2013 lists. As soon as I found them from Iron Bonehead Bandcamp, I was instantly hooked.
Aura is a three-track EP offering twenty minutes of relentless, crushing death / black metal. Their sound is based on heavy riffing, pulsating drumming and crushing vocals. They atmosphere they can create with just guitar and drums is really exquisite and fitting. One would think the songs need bass or another guitar to sound complete, but the guys pull it off. Especially the riffing in Entranced By The Wolfshook will have you headbanging the entire week and is easily one of the biggest surprised I have heard this year. So far the only complaint I have heard is that why is this EP so short. Haha, well three songs will have your body craving for more and based on this ruthless attack I am pretty sure the guys will be dropping a full length next year. Here's to hoping.
Listen and support the band here:
Atomic Aggressor and Death Yell are two death/black metal bands from Chile. I had absolutely no information on these bands before, but it was yet another link on Facebook I clicked (luckily) and I was hooked and did my homework on the bands.
Atomic Aggressor has been active almost thirty years now (vow!) and so far they have released only three demos, a compilation and a live album. Death Yell's history is pretty much the same: a demo, a split, an EP and a compilation since they formed back in 1986. Then again both bands called it quits in the early 1990's and have now been reactived and I am glad they did.
Blind Servants starts with downtoned guitar tone and blasting drumming. The song grabs you by the balls instantly and headbanging is imminent. Atomic Aggressor's style is old school death metal with modern twist and they remind me of Morbid Angel and Disma. The only complaint I have is the a bit muddy production, but it doesn't take away the fact that the song kicks ass.
Back From The Depths doesn't really slow things down and is even better in my opinion. I remember when I first heard it, the guitar riff on the chorus was stuck in my head for days and I kept repeating it. There is something really catchy about this song and it takes me back to the good ol' death metal days. The production is a bit flat here too, but the song kicks so much ass that it really doesn't matter.
I hope both bands will release their first full lenghts on 2014 and deserve more recognition. I need to do my homework on Chilean death metal too (note to self).
Listen to the split here on Hell's Headbangers Bandcamp page:
Enter another two entirely new bands from US I had never heard before. Aylwin hails from California playing atmospheric black metal with lyrical themes about nature (as you can expect from the cover art) and atavism. Their sound is reminiscent of US Cascadian Black Metal with lengthy and epic songs concentrating on riffages, building atmosphere on distorted guitars and wailing vocals. There is really little to complain about Aylwin side of the split, My Spirit of Pine and the Outer Body Experience: A Sequence of Night and Day. The song is a 14-minute composition starting with eerie female chanting before blasting into black metal beat and relentless riffing. It has all the classic elements of atmospheric black metal and it is best listened upon a cold, frosty night looking at the stars. If you happen to live in a wooden cottage up in the mountains sipping your last drop of whiskey by the campfire I would assume the surroundings would be perfect for this record.
Stellar Descant is Anthony W's one-man project from Oregon and has been active since 2010. The guy is pretty productive and has managed to put out two demos, two full-lengths and two splits so far. My first encounter was with Farallon split and it caught my attention immediately. Farallon: A Sequence of Subduction and Orogeny is a 29-minute monolith and returning to it now while writing this takes me back in emotions. Although the song is long including from distorted riffing and blast beat drumming to acoustic guitar passages, bird shrieking samples and native American percussion like drum parts, the entire composition holds well together and takes you to places. To me the high point is the relentless drumming accompanied by wailing and high-pitched screams, man I do feel alive at that point. I would use the term my friend is using and makes me smile everytime: "Sent me flying backwards".
There are quite a lot atmospheric, forest worshiping bands from the US lately (especially Cascadian region), but for some reason their atmosphere and message fits me perfectly. Everything is somehow down-to-earth, believable and honest. The production is not perfect but the raw and emotional soundscape, undying energy and honesty is something you can relate to easily. To me it feels these guys are creating the music they have always wanted, download it up to Bandcamp with pay what you will option and probably hope that at some point a music lover from Indonesia, Canada, China, Russia, Chile or Finland will find you and promote you in his/her blog. I love doing this and I hope you love reading this as much.
Listen/download to the entire split here and support these great bands: